Hi, Can you help me find accountant to help me in annual accounting in QF please?
Best
Mario
Do you see at top right an option "Need help with your accounting?" when you login to your QF account?
Is not topic on the right if I will login
You can contact a panel of accountants using the "Need help with your accounting?" button from your QuickFile dashboard: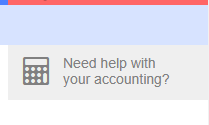 From here you can either contact accountants, or choose one to help with your accounts based on the data in your account.
Hi , i have logged into my QF , but could not see any link Need help with accounting on the dashboard, used to have such info before, but no where i can see it . strange, please help.
Hi marvin, you should actually see the grey button on the top right corner, except your account is linked to an accountant already or you use an affinity account.
If you look for an accountant have a look here:
https://accountants.quickfile.co.uk/
For help with Tax-return:
"yourcompany".quickfile.co.uk/YearEnd/Compare
And if you need help with bookkeeping:
"yourcompany".quickfile.co.uk/Services/NewQuote
I hope this helps
Hi Mathew, I've already used this and choose accountant SQK Accountancy from your website and paid for annual assessment. Company wasted my time 2 months and now they refused. Please activate this help for me again. Can you referral me another account who is alright with QF please? I need help.
You can unlink your account if needed by going to Account Settings >> Team Management.
A list of accountants familiar with QuickFile can be found here: https://accountants.quickfile.co.uk