IMPORTANT NOTICE: The QuickFile Advertising Services mentioned in this guide will be replaced by a new year end comparison service from May 2016. If you would like to continue to receive quotation requests from QuickFile users please create a listing with our sister company Find an Accountant.
QuickFile Connect is an advertising platform which is part of the Affinity system allowing accountants and bookkeeping professionals to reach 10s of thousands of UK businesses that are using QuickFile to manage their accounts. In addition to this we will send you qualified leads from individuals on QuickFile looking for assistance with various accounting matters, e.g. bookkeeping, year-end accounts, tax planning etc.
The ads created on QuickFile Connect appear on the main Dashboard area of all non-Affinity controlled accounts. The ad will include your company name along with two lines of text outlining your service. Those ads located within the top 3 positions can also include a website address, telephone number, and 3 additional lines detailing specific offers.
Advertising your company on QuickFile will give you direct access to over 20,000 UK freelancers and SMEs. Since launching QuickFile in 2010 we have seen an approximate doubling of our user-base year-on-year. The Dashboard screen in QuickFile receives just under 250,000 impressions per month*.
With the Campaign Management area you can click the traffic stats button to see direct statistics from Google Analytics over your chosen date range.
When you advertise on QuickFile you can create a dedicated landing page for your company which will include the following elements.
Address
Interactive map
Website address
Messaging button (messages will be delivered to your Affinity control panel)
Social links, e.g. Twitter, Facebook, LinkedIn etc
List of services offered to clients
List of skills and expertise
A short descriptive statement about your company.
The landing page for your company will look something like this:
It is easy to budget your advertising costs on QuickFile as you decide how much you want to pay for your ad by setting a daily bid. All ads are ranked in order of the daily bid highest to lowest. The minimum bid is £1 per day.
The top 3 positions are referred to as enhanced listings, these will automatically allow you to display a web address, telephone number, and 3 additional offers with your ad copy.
The example below shows what is included with an enhanced listing along with a typical spread of daily bids.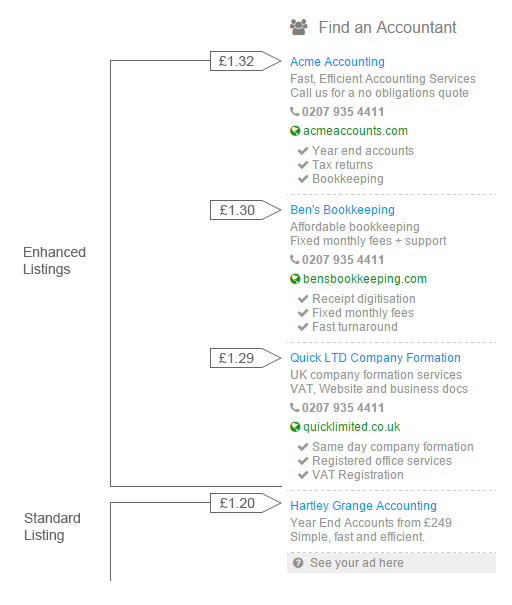 As well as displaying your listing within QuickFile we will also send you qualified accounting leads through our quotation system. The quotation system allows QuickFile users seeking assistance to complete a series of short questions in order to clarify their needs. You will then be able to reply directly to users by e-mail to offer your services. The type of quotations received will depend on the ads you are running on QuickFile. You will automatically received quotation requests for any business type (e.g. Limited Company, Sole Trader, Partnership) for which you have a targeted ad listing providing you remain within the top 10 listings.
Please note: From May 2016 if you wish to continue receiving quotation requests from QuickFile users you must obtain a Premium Listing subscription with FindAnAccounant.co.uk.
Find out more about Quotation Requests here.
All advertising costs are collected by direct debit or can be prepaid using a debit or credit card. You will only be able to create a new ad once you have either setup a direct debit authorisation or made a prepayment using a debit or credit card.
All advertising costs are calculated daily and applied to your ledger within Affinity, you will be able to view all calculated fees in your Affinity billing area.
No. We will never show adverts to accounts managed through Affinity.
Currently you can target ads specifically by trading status (Limited Company, Sole Trader or Partnership). For each target user-base you will need to create a separate listing within your Campaign Management Area.
For each listing you can specify your target audience and create unique ad copy for each.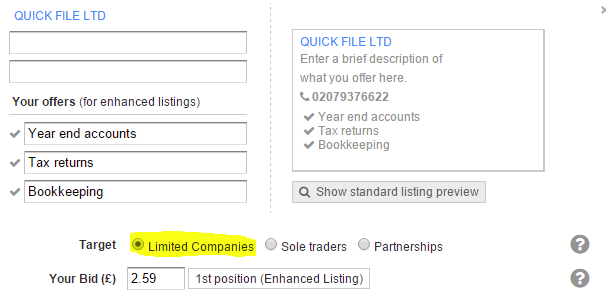 We want to ensure all ads created on QuickFile comply with a basic set of editorial guidelines to maintain a quality user experience.
Here are some examples of content that will not be allowed.
Excessive use of punctuation or capitalisation.
The ad copy is incomprehensible or gibberish.
The services offered do not fall within the category of accounting or bookkeeping. We would expect any services offered to be typically supplied by these types of businesses.
Ad copy that contains the superlatives and comparatives "best", "no. 1", "better than", "faster than" or any other equivalent claims where that claim cannot be independently supported.
Obvious problems with spelling or grammar. If identified we will deactivate ads with obvious spelling or grammar problems, this will ensure you don't lose out on valuable click throughs. If this action is taken we will email you.
When any of the above guidelines are violated your ad will be deactivated and you will be emailed with the precise nature of the problem. Once the problem has been addressed you can resave the ad and it will be instantly reactivated.
To stop an ad from appearing to QuickFile users you can go to the Campaign Management area, click on the options menu for the ad you want to stop and select the "Delete" or "Pause" option.
Any daily charges for an ad that has been stopped will still be applied in full for that particular day.