Identifying trends in your business is crucial when it comes to making informed decisions about the future. A visual chart is often far more effective than a column of numbers when it comes to communicating broader trends.
This week we have implemented an update on the Profit & Loss reports (single and segmented) along with the Balance Sheet that introduces a series of new interactive charts. When opening the new reports you will now see a 'Visualise' tab at the top of the screen.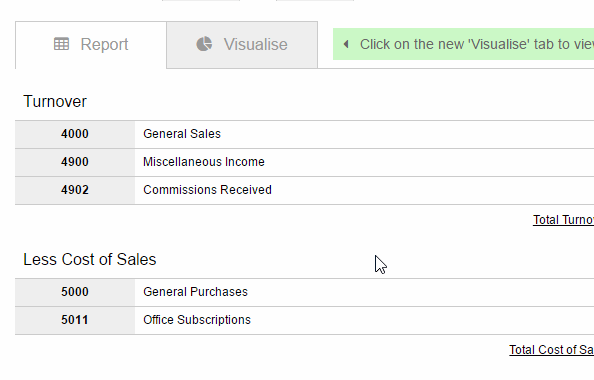 In the Profit & Loss report this will allow you to see a pie chart with a breakdown of your income and expenditure. A similar layout has been adopted on the Balance Sheet report enabling you to visualise the breakdown of your assets and liabilities.
##Segmented Profit & Loss Report
We've done quite a bit of work here to first expand the monthly view to a full 12 months, along with the ability to visualise the data in detail or grouped on a line/area chart.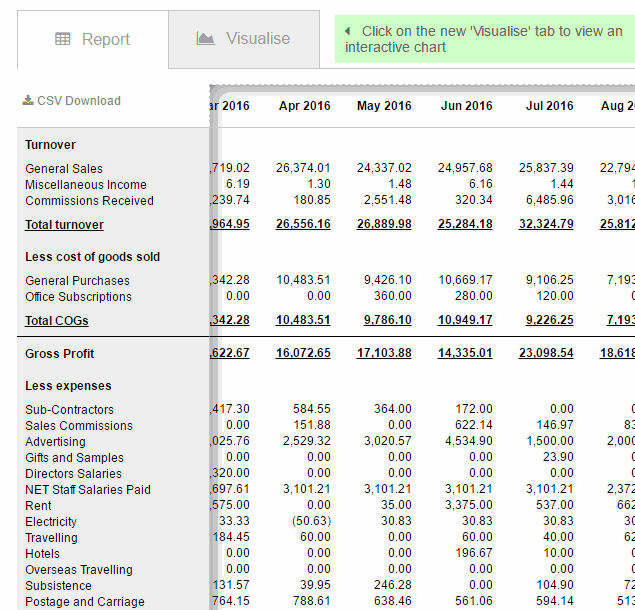 With the segmented P&L chart you can click the legend items to hide or reveal the corresponding plot. You can also switch to a basic view that will report on the headline figures, i.e. turnover, cost of sales, gross profit, expenses and net profit.
That's it for now! We hope you enjoy using the new charts.