QuickFile has the capability to host a fully branded client area using your unique QuickFile domain (mydomain.quickfile.co.uk). The client area will allow your clients to view all their invoices, access a statement of account, print their documents, and pay online. It also has a built in estimate preview and accept/decline feature, this is useful if you business is frequently providing quotes.
To configure the appearance of your client area select the "Sales" option followed by "Client area customisation".
The Express Banner Designer is a simple tool to start customising your client and administration area.
Within this area you can:
Upload your own company logo

Build a custom horizontal menu
Drop in some footer text

The menu system can be configured to add links that will enable your staff and clients to jump between QuickFile and your company website. Don't forget to test your menu links once you have saved your changes!
Set your own colour theme
Within the express banner designer you can also set your own custom colour theme or choose one of the ready-made template.
Any of the settings configured here will be adopted by the client area instantly on save. When you save your changes you will see a link which will pop open a new preview window.
You can also Impersonate any of your saved clients from the respective client detail screen. This will allow you to simulate their experience when they access your client area. The client area will only be accessible for those clients who have a saved contact, I.e. contact name and e-mail.
Don't forget you can also customise the design and layout of your sales invoices. We have a guide on this here: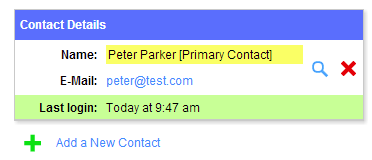 If you would like more granular control over the appearance of your client area and you are confident in CSS and HTML, you can directly edit the base templates using the Advanced Customisation Tool-set.