Over the last month we've been busy working through a number of your project tagging requests to simplify the tagging of invoices, estimates, purchases and purchase orders to your projects. Here's a brief roundup of the recent changes:
##Inline tagging for invoices, estimates and purchases
Previously you had to create your document first before applying your project tags. Now you can simply enter your tags inline when you create your invoice, estimate, purchase or purchase order.

##Setting client and supplier default project tags
If you'd like all the invoices you create for a given client or supplier to automatically adopt a common project tag (or set of tags), this can now be configured in the relevant client or supplier settings screen.


Default project tags for clients can help you group together the activity for a subset of your clients. This can be useful for sales teams when you need to assign ownership of a client to a particular member of staff and report on profitability.
##Receipt Hub tagging
Finally you can also now tag your expenses to a project directly from the Receipt Hub, you will find the new project tagging box just above the "Payment Information" section when tagging a receipt.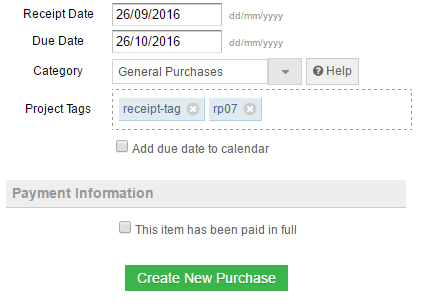 ##Future plans
We have a number of other enhancements in the pipeline to further simplify projects.
Ability to show all untagged sales invoices, estimates and purchases
Ability to apply project tags from bank tagging (this is likely to be an optional feature).
If you'd like to see some other specific enhancements for projects, please search the forum to see if it has already been suggested and either add your vote or let us know if it hasn't been previously covered.