Manage your VAT calculations and returns easily with QuickFile. Sign up for free
VAT can be confusing, so we've put together a quick overview of the most common VAT rates and how they're applied.
This is the one you will be most familiar with. Most vatable goods and services will attract a 20% rate of VAT. The standard rate has previously been pegged at 15% and 17.5%.
The reduced rate of VAT applies predominantly to domestic energy supplies and infrastructure.
Zero rated items, as you guessed it, carry no VAT. It's different to "VAT exempt" in so far as they still form part of your total Vatable sales or purchases, and the gross total must be recorded on your VAT Return.
A large number of food and drink products are zero rated, along with baby clothes and printed materials such as newspapers, magazines and books (excluding e-books).
Exempt sales often include (but not limited to) educational services, medical care and health services provided by doctors, opticians, dentists and pharmacists. Some Royal Mail services are also VAT exempt, this is a common expense for many businesses so it's worth checking your invoice in detail.
Some items are completely outside the scope of UK VAT. These often include sales or purchases made outside of the European Union. There are also some anomalies in there such as congestion zone charging, toll brides, tunnels and MOT testing services.
With the addition of the VAT MOSS rules (1st January 2015), it will also be necessary to levy VAT at the consumer's local VAT rate within their EU member state for certain digital services. This in effect would mean that the invoice is outside the scope of UK VAT.
Just when you thought you'd got a handle on VAT and all its quirks here's another curve ball! The reverse charge applies when you're making a sale or purchase with another client or supplier based outside of the UK but in the European Community, where the company is also registered for VAT in their member state. In such cases you must account for the VAT at the local rate then apply the reverse charge.
Let's use Google Adwords as an example, in fact there are a few tech companies also based in Ireland so no doubt you will encounter one of these suppliers at some point.
Let's say we spend £100 on Google Adwords. If you have supplied Google with your UK VAT number they will already have netted the VAT. So when you register the purchase in QuickFile you'll first need to ensure the supplier is configured as an EC supplier for VAT purposes. You can find this option in the supplier settings.

When you raise a new invoice for the supplier you will then see the option to apply the reverse charge.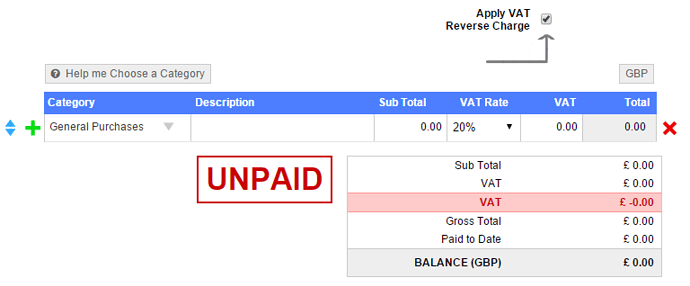 Now if you enter the sub total of the purchase as 100 and set the VAT rate to 20% you will see in the footer totals the VAT of £20 being applied and then removed (in red).

When you come to file your VAT return you will see the VAT applied in box 1 and then revoked in box 4. The total value of the purchase will also be included in box 6 and 7.