As we move towards a paperless office, bridging the gap between our digital accounting records and our paper receipts can be tricky. Fortunately QuickFile has a solution...
Introducing the Receipt Hub
The Receipt Hub is essentially a collection of tools allowing you to stream in and organise all your paper receipts in the cloud. The Receipt Hub can interface with your smartphone, e-mail, and Dropbox account to capture your receipts and centralise them ready for processing.
You can access the Receipt Hub directly from your Dashboard.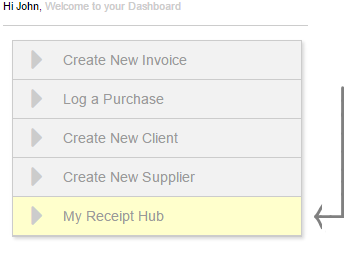 There are a number of ways in which you can import receipts into the Receipt Hub. Let's take a look one by one.
By using a modern smartphone you can snap a picture of your receipt and e-mail it into '**receipts@quickfile.co.uk**'. We look to see what address the e-mail has come from and we route it directly into your Receipt Hub. Take a look at our tutorial on CamScanner that shows how you can turn your iPhone or Android device into a mobile receipt scanner. CamScanner is an excellent tool that enables you to crop, re-size and compress your receipts before streaming them into QuickFile.
Using a smartphone device allows you to capture receipts on the go and process them later.
Link your Dropbox account to QuickFile and we will create a dedicated folder for you where you can simply drag and drop your receipts. This works like a virtual tunnel, simply copy your receipts into Dropbox and in a few moments they will appear in the Receipt Hub. Dropbox is one of the market leaders in cloud storage technology, best of all they give you a chunk of storage space for free! The Dropbox desktop folder is extremely useful, any receipts that accumulate on your computer just move them into Dropbox and process them later. Install the Dropbox app on your phone or tablet and you've created another mobile point of entry.
Click here to find out more about integrating Dropbox
Do you receive many of your invoices by e-mail? Not a problem, just forward the e-mails to '**receipts@quickfile.co.uk**' and we'll drop them into your Receipt Hub. We'll first look for any attachments or simply display the e-mail body so that you can extract the pertinent information later. Before you can start using the e-mail service you'll need to first head over to the account settings area and tell us which e-mail addresses you will be sending from. That way we'll know where to route them.
Click here to find out more about email receipts to QuickFile
Upload your receipts directly within the Receipt Hub and start processing them right away.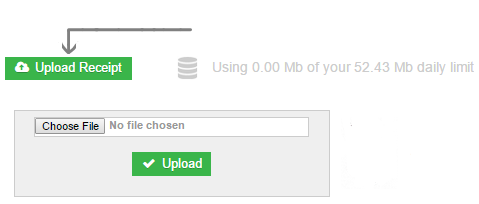 OK, so you've got your receipts uploaded into the Receipt Hub, what's next? When the receipts first appear they will be untagged. Untagged means, we don't know yet what they relate to.
You can click on the red button to start tagging.

When you view a new receipt you will see a split screen similar to the one below: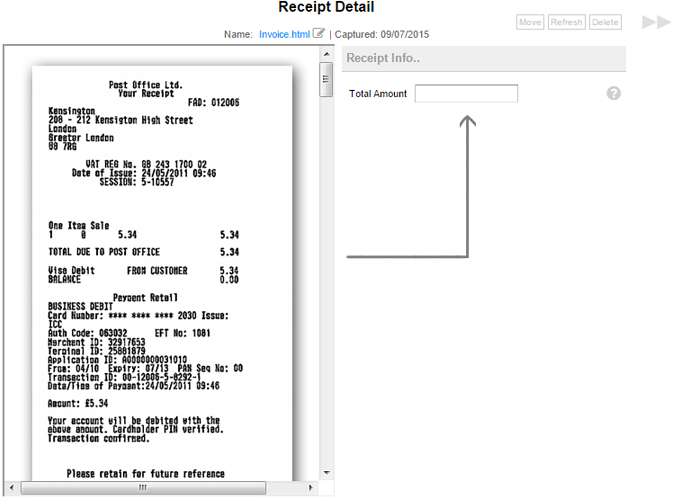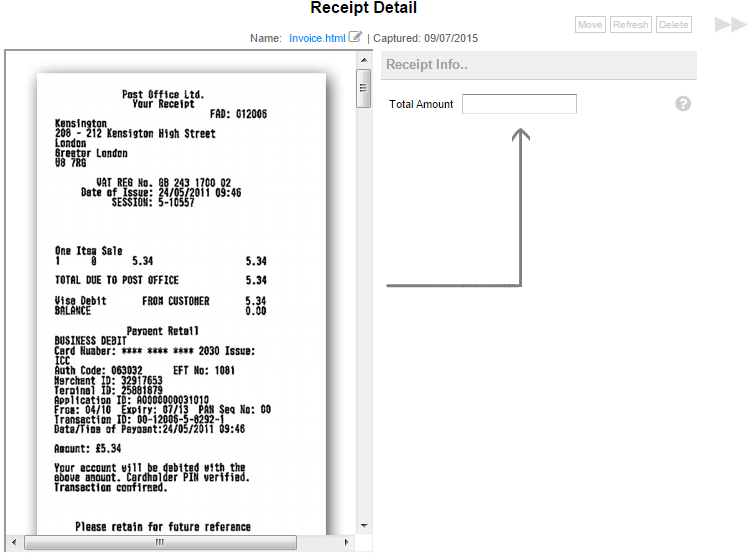 You can start by entering the amount on the receipt. QuickFile will scan your existing purchase receipts for a match. You can also filter the results to only show records for a given supplier.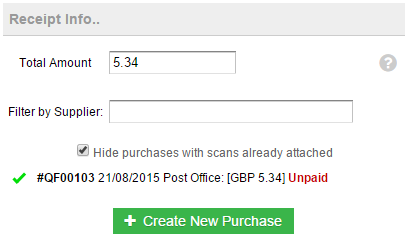 If the receipt relates to a purchase you have already recorded in QuickFile, all you need to do is click on the matching item and the receipt image will be tagged to the purchase. If not then you can click the button to create a new purchase.
You will now be able to key in the relevant information while using the receipt image as a reference.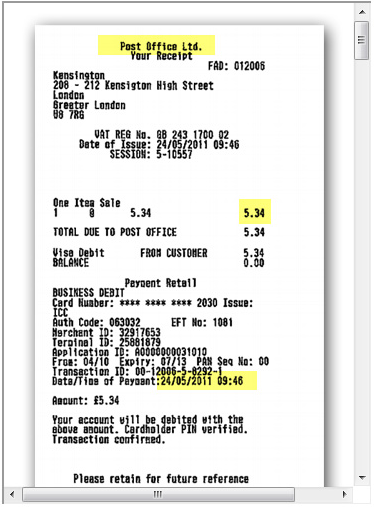 You can choose to leave the receipt unpaid, enter a new payment, or link it to an existing untagged bank transaction. Once you've saved your receipt you can consider it tagged, when you return to the Receipt Hub overview page the receipt will now be marked green.
Yes, you can send whatever documents you like to the Receipt Hub. When you come to process a new document you will notice small set of buttons in the top right where you can move the item to another folder in the document manager. You can also delete an unwanted document or refresh the page.
In theory you can use the Receipt Hub to archive bank statements, letters, contracts, HMRC correspondence, remittance advice slips, whatever you may wish.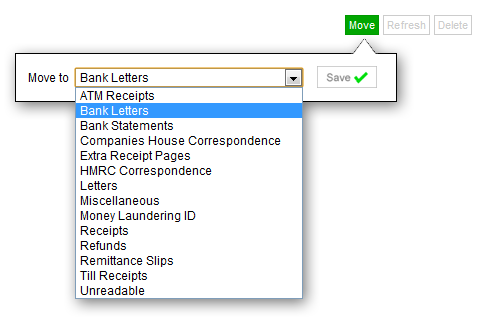 Yes, we set a daily transfer limit of **262 MB**. This is to keep the system running smoothly without any given user slowing down the service by uploading large volumes of data. You can read more about data limits [here][3].
To maximise your data limit we strongly advise you to compress the documents that you will be uploading to the Receipt Hub.
We currently support the following document types: - PDF documents - Images (png, gif, jpg, tif) - Word documents (Including RTF) - Excel spreadsheets (Including CSV) - Notepad documents - HTML documents
Any other document types you e-mail or upload to Dropbox will usually be ignored.